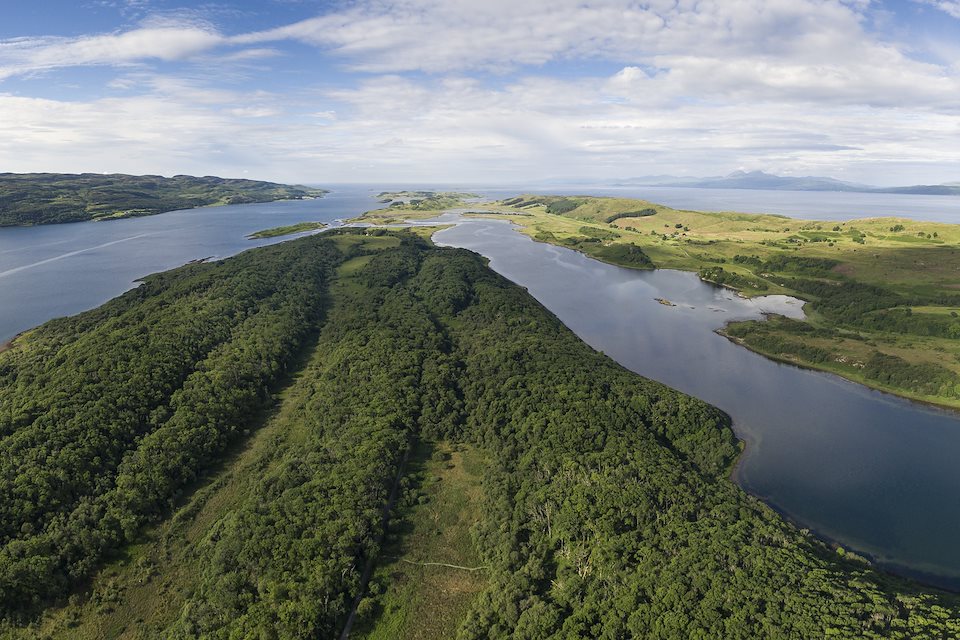 FIND OUT MORE

Search for white-tailed eagles and otters along the spectacular Argyll coast
Journey through Scotland's Celtic rainforest carpeted in bluebells
Watch beavers on an evening safari
Enjoy the stunning island of Mull on a full-day excursion
Venture out on an exclusive boat trip
Learn about rewilding from those at the cutting edge
Receive a complimentary digital copy of our landmark book: SCOTLAND: A Rewilding Journey
The west coast of Scotland has seen some of the country's most exciting rewilding projects, from the reintroduction of white-tailed eagles to the Scottish Beaver Trial. Here, the landscape is wild and rugged, shaped by wind and sea.
At this time of year, the last remnants of the Atlantic oakwoods are carpeted with vibrant bluebells. Walking amongst these ancient forests, dripping in lichens and brushing past ferns is a humbling experience.
At the coast, rewilding doesn't stop at the water's edge. There are many inspiring projects helping to improve our marine ecosystems and we'll explore these stories throughout the retreat whilst searching for the wildlife that calls the west coast home.
What our guests think
"
WOW! What a week! An inspirational cocktail of nature experiences and learning.
"
Details
Dates: 9-15 May 2020
Location: Argyll, Scotland
Cost: £1465
Deposit: £300
Single Supplement: £0
Group Size: 8
Guide: Philip Price
Cost Includes: 6 nights accommodation in an en-suite room; all meals; transport during the retreat; guiding; presentations; transfers to/from Oban train station.
Cost Excludes: Travel to/from the retreat; travel/cancellation insurance; alcoholic drinks (wine is served with dinner); personal expenses.
Itinerary
Day 1: After arrival and introductions we enjoy our first meal together before relaxing in our cosy rooms at The Galley of Lorne Inn.
Day 2-6: The wild west coast of Scotland can be dramatic in both scenery and weather, so we like to be flexible in our approach. The retreat will be an exciting adventure visiting some of Argyll's most spectacular wild places and searching for its charismatic creatures.
We'll spend our days enjoying a vast array of sea birds, whilst searching the shorelines for otters. We will look for white-tailed eagles and hen harriers, visit the Celtic rainforest and spend an evening in beaver territory, hoping to catch a glimpse of these elusive animals whilst finding out how they engineer the landscape.
During the retreat, we've arranged to meet with several rewilding experts where we'll hear about the reintroduction of eagles and the rewilding of our seas. They will provide a fascinating perspective on their work, stimulating new thinking about the future for our wildlife and wild places.
A trip out west wouldn't be complete without time spent at sea, so we're chartering a boat to explore the marine environment and, weather permitting, we'll discover the wildlife of a nearby island.
This retreat will be a wonderful chance to explore the best of the west. We will witness some amazing wildlife whilst enjoying great food, all against the backdrop of a rewilding narrative special to this part of Scotland.
Day 7: We say our farewells after breakfast on Friday. For those requiring transfers to Oban, we will schedule to arrive there around 9:30am.
---
Essentials
ACCOMMODATION
Our accommodation is the family-run Galley of Lorne Inn, nestled on the lochside in the picturesque village of Ardfern, on Scotland's dramatic west coast. There is a choice of single, double or twin rooms, all with private facilities.
The Inn has free Wi-Fi throughout.
TRAVEL
Our first evening meal is normally taken at 7.30pm so you should aim to arrive from 5pm onwards.
By car: Cars can be parked on site. The postcode is PA31 8QN.
By train: Train travel is generally reliable and we can offer free transfers to/from Oban station.
By Air: The nearest airport is Glasgow, where you will then have to make your own way to either our accommodation or Oban train station where we can offer a transfer.
Full details of travel options from our accommodation can be found here.
MEALS
Breakfast and evening meals will be taken within our accommodation offering wholesome food prepared with fresh, local ingredients. In the field, we take a picnic lunch and home-bakes or eat at local cafes. We might also squeeze in coffee and cake stops along the way! We can almost always accommodate specific dietary requirements - just tell us on the booking form and we'll make sure you get what you want.
FITNESS
Most sites are accessible via a short walk but the terrain can be uneven and sometimes wet and/or slippery. You should generally be able to walk up to 2km, sometimes over uneven ground.
WEATHER
Weather is very changeable in the Highlands and you should expect anything from warm, calm conditions to wintry squalls. Temperatures are likely to range from 5c to 15c with the possibility of strong winds.
INSECTS
Midges aren't usually an issue at this time of year but can be present on calm, mild days. We suggest you bring a suitable repellent.
---
Guide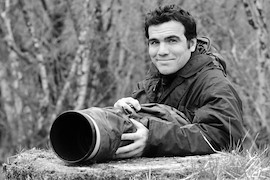 Phillip Price
Philip is a professional wildlife photographer and tour guide who has focused his whole career on only photographing the rich array of wildlife in Scotland. He has worked for numerous production companies as a guide, film maker and presenter including the BBC and National Geographic. Near his home on the west coast of Scotland, Philip has been heavily involved in many rewilding initiatives including the Scottish Beaver Trial, coastal habitat regeneration initiatives and various community engagement projects.
---
Giving Back
By booking a retreat you'll be directly supporting local jobs and services in the Scottish Highlands, demonstrating that wild nature has a tangible economic value.

All of our food and services are sourced from local suppliers wherever possible.

Whilst we realise it's not always possible to travel by public transport, we offer a £25 cashback scheme to anyone travelling by train or bus to help cut down our carbon footprint.

We supply all our guests with a complimentary reusable water bottle and limit our use of single-use plastic wherever possible.

A native tree will be planted on behalf of every guest in the Rewilding Escapes woodland grove operated by Trees For Life.