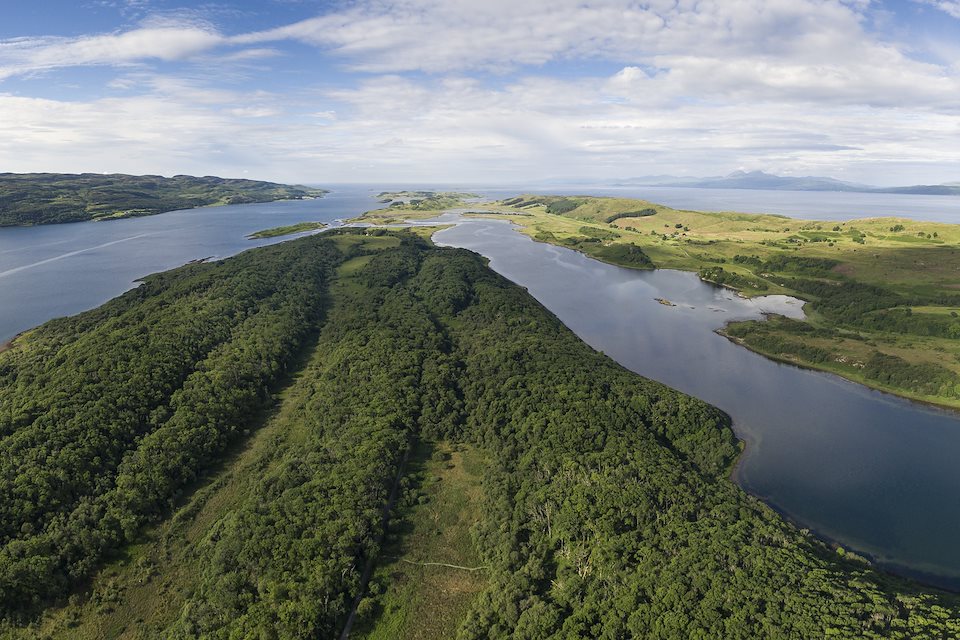 Explore Scotland's dramatic west coast, home to eagles, otters and beavers.
Journey through Scotland's Atlantic rainforest carpeted in bluebells.
Watch industrious beavers on an evening safari.
Explore "Eagle Island" - the stunning Isle of Mull on a full-day excursion.
Enjoy a private boat charter looking out for otters and dolphins.
Learn about pioneering rewilding projects and meet the people involved.
Receive a complimentary digital copy of our landmark book: SCOTLAND: A Rewilding Journey.
ITINERARY
"There's so much great work going on in Argyll – I can't wait to share it with guests."
Philip Price, Guide
Day 1: After arrival and introductions we enjoy our first meal together at the beautifully located Loch Melfort Hotel, our base for the retreat.
Day 2-6:
We like to retain flexibility around our exact itinerary to take account of weather and local wildlife opportunities, but here is a taste of what you can expect.
The west coast of Scotland is a wild and rugged landscape, shaped by weather and ocean. At this time of year, the last remnants of Scotland's rich rainforest, which once stretched across most of the western seaboard, are carpeted with vibrant bluebells and lush ferns. Walking amongst these ancient forests, dripping in lichens and mosses, is a humbling insight into what once was and, what could be again.
We'll spend our days enjoying and exploring a variety of habitats and seeking out special wildlife encounters. Over the last few decades, this area has seen the return of white-tailed eagles and more recently, beavers. In the first ever mammal reintroduction project in Britain, this keystone species is now sculpting the forests and wetlands of Argyll for the first time in 400 years. We will spend at least one evening looking for beavers and meet local guides who will show us the extraordinary impact of these industrious rodents.
We make a short ferry hop to the Isle of Mull, one of Europe's best locations for eagle watching. We will meet a local expert on white-tailed eagles who will recount their remarkable recovery in Scotland, as well as some of the challenges they still face.
Rewilding doesn't stop at the water's edge and along Argyll's intricate coastline, there are several ground-breaking projects, including an inspiring community initiative to restore millions of native oysters to a sea loch. Again, we meet the people making this happen.
Along the coast we search for otters and watch a vast array of seabirds that come ashore to breed for the short, frantic months of early summer. We explore the rich seas from a privately chartered boat and, weather permitting, we'll take a walk on a remote island looking for its special wildlife.
This retreat is a wonderful chance to experience the west coast's varied landscapes and enjoy amazing wildlife, all against the backdrop of a fascinating rewilding narrative unique to this part of Scotland.
Day 7: We say our farewells after breakfast on Friday.
DATES
DATES
GUIDE
STATUS

DATES:

21-27 May 2022

GUIDES:

Philip Price

STATUS:

Open
BOOK NOW
DETAILS
PRICE
Price: £1825
Deposit: £300
Single supplement: £0
PRICE INCLUDES
6 nights accommodation in an en-suite room
All meals
Transport during the retreat, including transfers to/from Oban
All excursions/boat trips
Personal guiding
PRICE EXCLUDES
Travel to/from the retreat
Travel/cancellation insurance
Alcoholic drinks (there is a bar at our accommodation)
Personal expenses
TRAVEL
By car: Cars can be safely parked at the hotel. The post code is: PA34 4XG
By train: There is a reliable rail service from Glasgow to Oban.
By Air: The nearest airport is Glasgow, from where there are regular bus and rail services to Oban, from where we can offer a transfer.
Transfers: For guests travelling by air/rail/coach, we can provide a transfer from Oban at 4pm on arrival day, with drop off at 10am on departure day.
ACCOMMODATION
Loch Melfort is a privately-owned, 4-star country house hotel in the most amazing setting by the coast of Argyll. Set in 17 acres of gardens and beach, the hotel has stunning views to the Sound of Jura and the Inner Hebrides beyond. As you step into the warmth, comfort and tranquility of this comfortable country family home, you cannot fail to notice the uniquely informal and relaxed atmosphere.
All bedrooms are well appointed with private facilities and a reliable Wi-Fi signal, although due to the remote location, phone signals can be patchy.
MEALS
Breakfast and evening meals will be taken in the hotel's restaurant overlooking the sea. Wherever possible, the hotel sources local produce, including freshly caught fish from nearby Oban. Packed lunches are taken in the field and we will no doubt enjoy the odd coffee and cake stop to support local businesses!
FITNESS
Most walks are on established tracks and trails, but the terrain can be uneven and sometimes wet and/or slippery. You should generally be able to take leisurely walks up to 5km and be sure-footed.
WEATHER
Weather is very changeable at any time of year and you should expect anything from warm, calm conditions to cool and windy, especially on the coast and on-board boats. Even on lovely days, extra layers and waterproofs will make your trip more comfortable. If you're unsure what to pack, we'll be pleased to advise.
INSECTS
Midges aren't usually an issue but can be irritating in calm, mild conditions, especially in the evening - we suggest you bring a suitable repellent.