Scotland has a critical role to play in solving the climate and biodiversity crises. It has the potential to be a world leader in transforming its land and seas so that they work for nature, climate and people. But for this to happen, we have to see The Big Picture.
THE BIG PICTURE FOR NATURE
It wasn't so long ago that wild forests, free-flowing rivers and rich wetlands stretched across much of Scotland supporting an intricate web of life. But today, despite the majestic vistas, our land is emptier, poorer; our wildlife fragmented, muted.
To see The Big Picture for nature, we have to recognise what we have lost but more importantly, imagine what could return. Nature is not just a collection of species, it's a complex set of processes and interactions that keep ecosystems functioning – predation, scavenging, birth, death, decay and regeneration.
Rewilding works to revitalise these dynamic natural processes, supporting the recovery of Scotland's nature.
THE BIG PICTURE FOR CLIMATE
There is growing scientific consensus that the next 10 years will be critical in addressing climate breakdown. Within this frighteningly narrow window, a huge shift in our thinking is required to drive the change needed.
While technological advances offer hope, nature has a ready-made solution if we choose to embrace it. Healthy and diverse native woodlands, peatlands, saltmarshes and seagrass meadows, soak up huge amounts of CO2. When these ecosystems function as they should, they also have the potential to mitigate the impacts of flooding, drought and wildfires.
In restoring ecosystem health and locking away carbon, rewilding is a vital tool in the fight against climate change.
THE BIG PICTURE FOR PEOPLE
A nature-rich Scotland is good for people. Beyond the joy and wonder that is essential for our wellbeing, nature is our life support system. Clean air and water, a stable climate and fertile soils are fundamental to our own existence.
Nature also provides the opportunity to build vibrant communities around a diverse, nature-based economy, meeting the social and economic needs of people in tandem with ecological recovery. Scotland's rural communities in particular – while sometimes cautious about the implications of changes in land use – could grow and prosper by working with nature.
Alongside the recovery of nature, rewilding presents new opportunities for sustainable business, strong communities and public wellbeing.
"

Seeing The Big Picture enables us to think and work in a new way. Confining our ambition to protecting the fragments and threads of nature we have left is no longer enough. We need to think beyond the tiny green boxes that are our nature reserves and protected areas, and stretch our imaginations to what else is possible. With a change in mindset, amazing things can happen.

"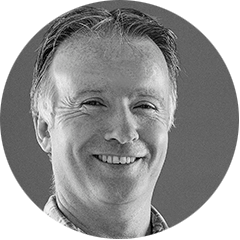 Peter Cairns, Executive Director
In some areas of Scotland, whole landscapes are already being transformed. Young forests are on the march, river systems are being restored, and by giving nature more space, wetlands and peatlands are regenerating. Wild animals, such as beavers, red squirrels and golden eagles, are being reintroduced to roam unimpeded across a landscape shaped and governed by natural processes. Elsewhere in towns and cities, passionate communities are working together to create more space for bats, bees and butterflies, in parks, gardens and public spaces.
The vision that unites rewilding at these different scales, is one of restoration and recovery – a commitment to transform our degraded ecosystems so that they work in all their colourful complexity.
It's time to make rewilding happen - for nature, climate and people.
It's time to see The Big Picture.