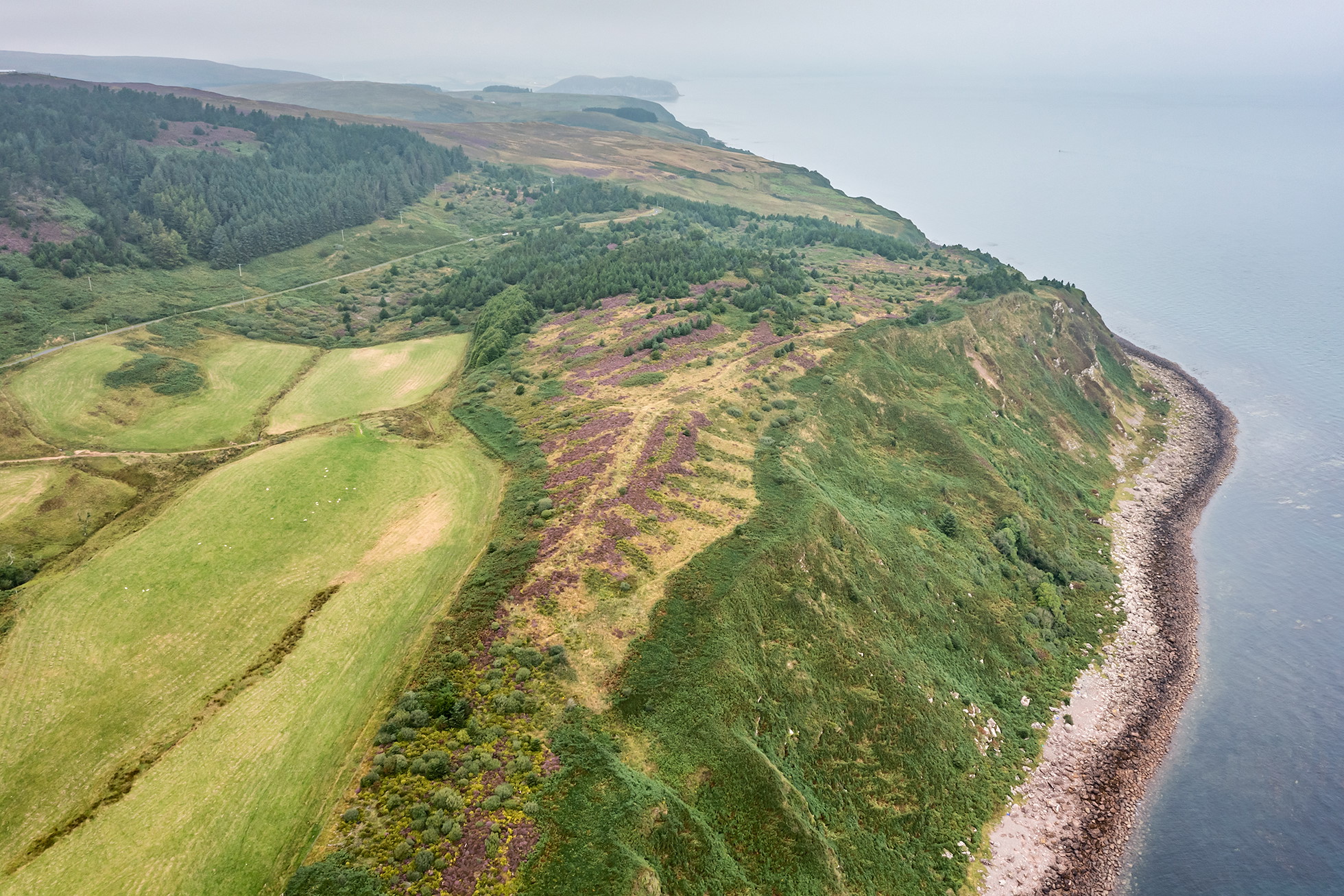 Location:
Campbelltown Area Committed:
97 acres
Feochaig Wood occupies a dramatic clifftop setting on the eastern side of the Kintyre peninsula, looking out to the Isle of Arran and the Ayrshire coast. The commercial conifer plantation that grew on the land was felled almost 20 years ago. Since that time, nature has bounded back, leaving a fantastic mosaic mix of heather, grassland, scots pine, rowan, hazel and bramble, in which wildlife is thriving. Along a shady watercourse, a few ancient fern and moss-covered hazels bear testimony to an even earlier era when this coast was home to a rainforest.
Key rewilding commitments:
MORE NATIVE WOODLAND: While Feochaig Wood is already well established on its rewilding journey, it offers a valuable opportunity to help the Atlantic rainforest re-emerge on the Mull of Kintyre. A commitment has been made to plant 3,000 native broadleaves of local provenance in two previously clear-felled areas.
CONNECT WITH COMMUNITIES: By opening paths to these locations through the currently impenetrable vegetation, Feochaig's custodians hope to raise awareness of the ecological consequences of land management decisions. Witnessing rewilding in action – even on a small scale – provides opportunities for interaction with nature and can have an important role to play in human health. Other plans include a comprehensive ecological survey and exploring the provision of a low-impact wildlife observation hide.
"Managing such a special site and helping nudge it towards its full ecological potential is an enormous privilege. It's my heartfelt wish to see Feochaig Wood make a tangible contribution to its visitors' wellbeing and nurture in future generations an appreciation for the great outdoors."

Jamie Dick-Cleland, Conservation/Woodland Manager