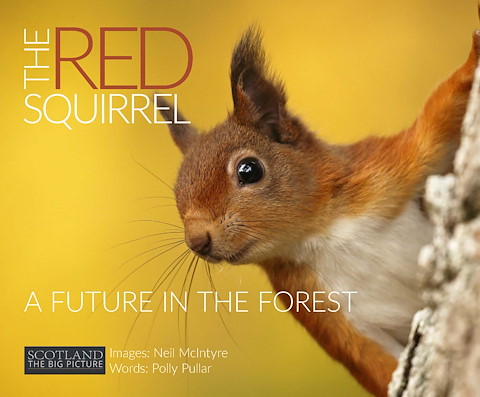 The Red Squirrel: A future in the forest
£25
ISBN:978-0-9568423-1-2
Author:Neil McIntyre and Polly Pullar
Size: 240mm x 290mm landscape orientation
Cover:Hardcover
Pages:170
Description
The first in a series of stunning conservation books from SCOTLAND:The Big Picture.
The Red Squirrel: A future in the forest showcases one of Britain's favourite mammals and at the same time, makes the case for the expansion of its native woodland home. The book's stunning imagery comes from renowned Cairngorms photographer Neil McIntyre, who has spent 20 years following the lives of his local squirrels. Neil's images are perfectly complemented by the insightful and evocative words of celebrated nature writer Polly Pullar.
The publication of this book was made possible through the generosity of over 500 supporters - thank you.
"Put simply, this book offers sheer delight and wonderment from cover to cover, providing an educated insight into the complex life of this iconic native animal." David Walster.